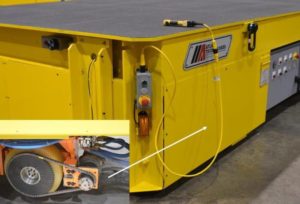 Speed:
•0-88 (1 mph) feet per minute max.
•Variable speed
Load:
•Polyurethane Load Wheels
•55 ton capacity max.
Size:
•36 H x 96 W x 144 L Min.
•Larger custom sizes available.
Safety:
•Beacons on front and rear of cart with audible siren when moving.
Control:
•Manual wireless controller.
•Joystick motion controller – forward, reverse & steering.
•Variable speed adjustment.
•Directional switch
Battery:
•On board 48V battery system. (STD)
Battery Charger:
•On board or remote.
•Opportunity "anytime" charging without jeopardizing the maximum life of the battery.
•Battery Cell Equalizer Function.
Customized Options:
•Fixtures for coils or other equipment.
•Extra payload capacity.
•Size of Cart
•Paint
•Battery charger on board or remote.
•Front & Rear Programmable Scanner.
•Safety Bumpers